The holiday season is upon us! While this means you'll soon be able to relax and enjoy spending quality time with family and friends, first comes tackling your never-ending Christmas shopping list.
If you have an avid Jeeper in your family, but have no idea where to even begin searching for the perfect Jeep accessories that they'll love for Christmas, don't worry — Altitude Jeep has you covered!
We've hand-picked some of the best Jeep accessories that we have to offer in our shop. These are essentials for any Jeep owner looking to take their Wrangler to the next level, and they all make incredible holiday gift options. So keep reading to knock one more person off your Christmas gift list and order your favorite aftermarket Jeep accessories online today!
Best Holiday Jeep Accessories
Make Any Jeep Wrangler A Camper With
The NitePad®
This is one of our favorite gifts for Jeep owners who find themselves constantly on the road because it allows you to turn any Jeep Wrangler into a camper! This is a gift that keeps on giving as Jeep Wrangler owners can sleep under the stars wherever they venture in their off-roading pursuits, rather than having to cut the trip short or spend money on hotels for the night. The NitePad® makes the most of Jeeps, being custom-shaped for a perfect fit in the back of any '07–'18 Jeep Wrangler models for a shockingly comfortable night's sleep. This is a Jeep accessory that is sure to be appreciated by any Wrangler owner with a major case of wanderlust.
Looking for a more affordable Jeep accessory to bestow on your off-road addict? A dead pedal is an essential addition any riders who tackle treacherous terrain in their Wranglers. Featuring a non-slip design for a perfect foot prop when crawling over rocks or on long road trips, the dead pedal helps your Jeeper, well, Jeeping and experiencing significantly less fatigue.
Dead pedals can be installed easily with hand tools and last for a lifetime. This is an aftermarket Jeep accessory that any automatic Jeep Wrangler owner will certainly appreciate receiving as a gift this holiday season.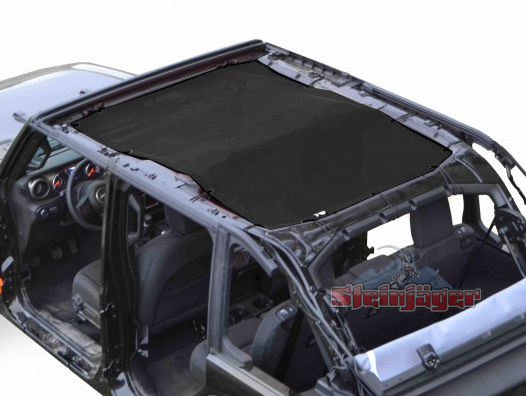 One of the newest aftermarket Jeep accessories in our line, Solar Shadez are a perfect gift for those Wrangler riders who love to cruise with the top down any chance they get, but constantly come home with a burnt head or face. Give them the gift of freedom and open air, but with the refreshment of the cool shade and protection from the sun's rays. With a dozen colors to choose from, we have one that's perfect for your loved one's Jeep (maybe even one for yourself to go along with it).
While these are our three favorite aftermarket Jeep accessories that we believe make the best gifts for your off-road addict this holiday season, feel free to explore the rest of our Jeep accessories for further inspiration. Order your favorites online today to get them in time for Christmas with free shipping on orders over $55!